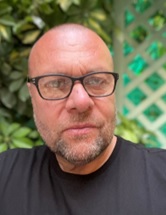 Chris Cooper
Associate
Chris is an experienced facilitator and coach who strongly believes in the ability of the individual to grow and develop. An assertive and enthusiastic facilitator, Chris can take a creative idea and make it serve a practical purpose. He has a direct style of communication but still considers people and takes a coaching approach to help learning come to life and 'stick' in the real world.  Chris is an excellent director of people to achieve results, both in his training and in his former corporate career. He enjoys offering challenge to people, balancing this with support, that will offer them the opportunity to make progress.
His experience of leading worldwide Operation Raleigh expeditions to management of high profile companies has given him a passion for experiential training and 'learning through doing'.
Over the last 18 years working in HR and development fields, Chris has developed and established learning resource centres for business as well as delivered high impact and experiential development programmes.
He is particularly skilled in personal development and coaching, with a long track record for design and delivery of people development programmes in teamwork, management and leadership.
Qualifications and memberships
HCTB Group Facilitators Award, Training Certificate, Corrective Coaching Certificate, Group Training Techniques
D32, D33 assessors' award
CIPD Certificate in Personnel Practice
Plant & Safety Training – Lloyds British
Insight Psychometric Testing
NLP Practitioner
Coaching Certificate
Member of the Chartered Institute of Personnel and Development (CIPD)
Member of the Institute of IT Facilitators
Member of the e-learning Guild
Member of the Institute of Leadership and Management